Google Workspace for healthcare
Empower care teams with frictionless collaboration and productivity tools.
Provide healthcare workers with secure solutions that streamline patient care and keep the entire care team on the same page from anywhere
Enable telemedicine with secure Google Meet video conferencing
From virtual doctor visits to virtual care team meetings, use Google Meet to connect securely.
Use screen sharing to share documents or medical images to guide the conversation.
Turn on live captions powered by Google's speech recognition technology to help everyone follow along.
Google Meet supports HIPAA compliance.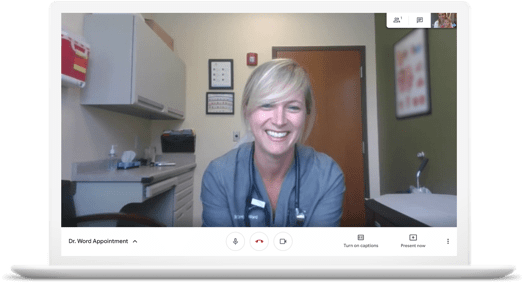 Gmail, Google Drive and Docs all support HIPAA-compliant access to patient information
Store patient data files in a repository that supports HIPAA-compliance in Google Drive.
Use Google's mobile device management and encryption to keep the data secure.
Allow authorised employees and frontline caregivers access to pertinent healthcare information from any corporate-managed device.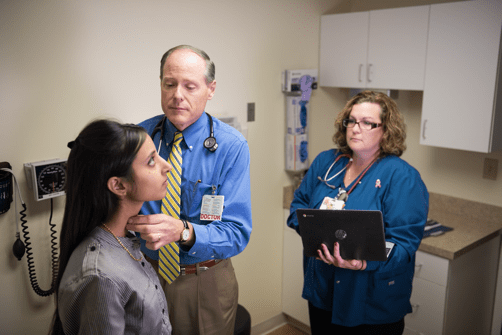 Make mobile healthcare easier
Create care team chat groups in Google Chat to keep remote teams connected from anywhere.
Keep patient information in Google Docs, Sheets or other files stored in Google Drive.
Mobile apps for Android and iOS make it easy to access and update information from any device.
Google Chat, Forms and Sheets support HIPAA Compliance.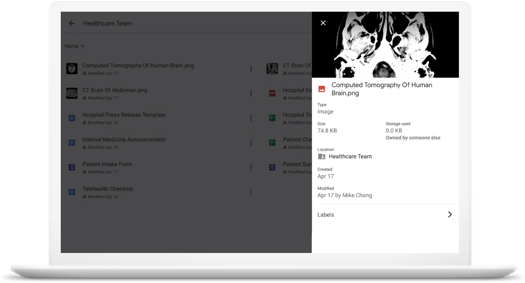 Improve the patient experience with fast, simple service
Start every visit by having patients complete online Google Forms surveys to provide their intake information.
Forms data goes straight into Google Sheets where doctors and nurses can add their own notes.
Staff members see the information in real time and can follow up with patients immediately.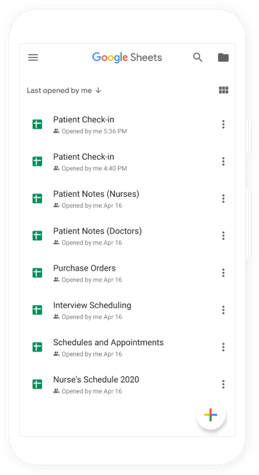 Go paperless and streamline operations by moving to the Cloud
Collaborate more efficiently by securely sharing X-rays, CT scans and voice and video messages as digital files (up to 5 TB each) on Drive.
Eliminate the risk of medical error, with inconsistent and outdated versions of healthcare documents.
Create shared drives as a single source of truth for an entire care team to access and update.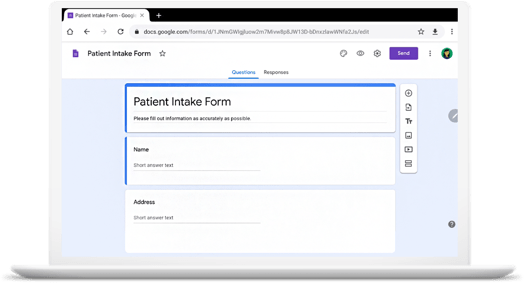 Create an information hub for important internal updates and documents
Move all your internal communications, announcements, policy updates and training materials to Drive.
Link to everything from an easy-to-build Google Sites website that can support HIPAA compliance.
Give access to all employees, or for patient care or specific projects, just to a select group.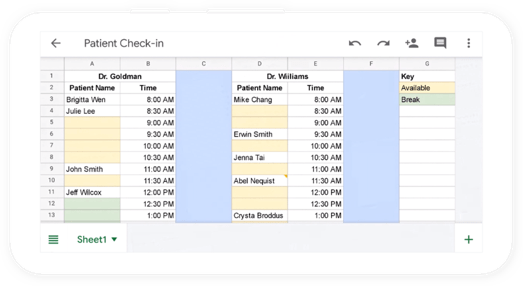 Healthcare organisations across the globe run on Google Workspace . See their stories
The Roche Group
Read about how the Roche Group enables over 90,000 employees to work together anywhere.
web Read article
See more stories:
Top 5 proven strategies for healthcare in the cloud
Read about best practices from healthcare leaders for ensuring security and compliance in the cloud
web Read article
Omada Health
Read about how this healthcare provider uses Google to enable its caregivers where it matters most.
web Read article
expand_more
Try Google Workspace for free